What we offer
1.
Real Aroma Recovery Units
2.
Full Dealcoholisation Units
3.
Contract Dealcoholisation
4.
Engineering & Support
1.
Real Aroma Recovery Units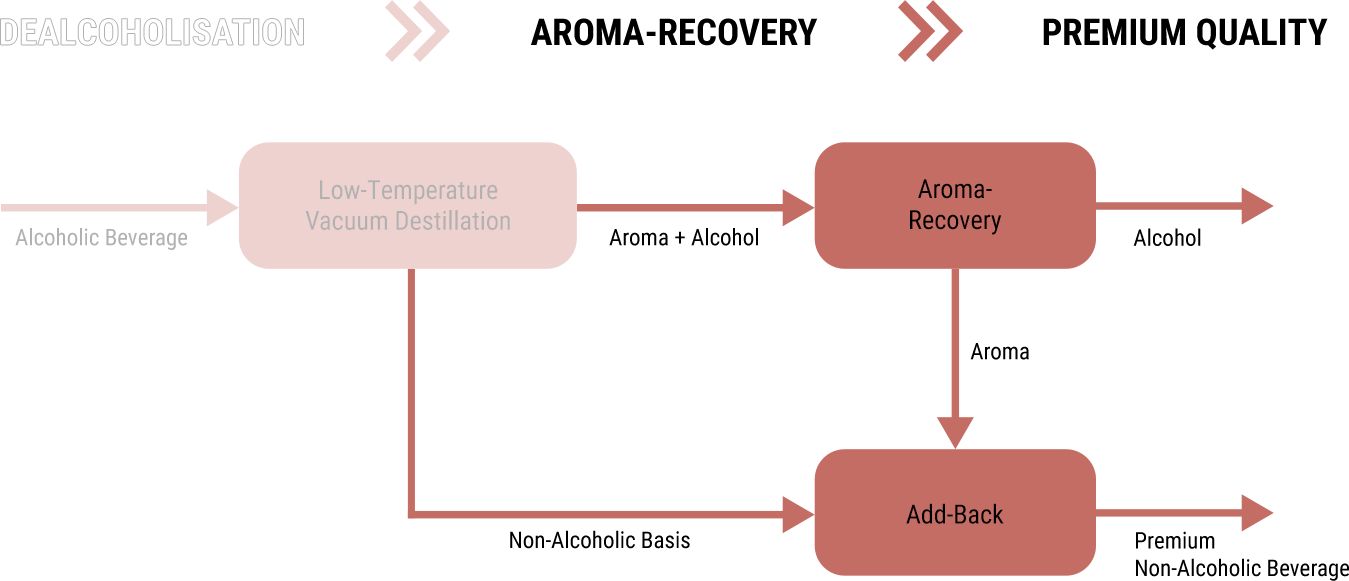 Aroma-upgrade for existing dealcoholisation plants
Do you wish to place a better product on the market, but have already invested in sufficient processing capacity? Are you forced to stand by as your product's hard-won aroma disappears through side-streams? Does your production hall smell better than your product?
Well, real aroma recovery is also available as a retrofit upgrade to existing facilities!
Product-specific, customized and satisfying local regulatory requirements, a retrofit-module is capable of an immediate increase in product quality. It can tackle all aroma-relevant side-streams to get the most out of your feed material.
A small footprint ensures that it can be included easily in existing production sites, while flexible dimensioning allows it to slot into established operating schedules. The module is available for any existing plant scale.
Our T2A-Aroma Recovery Module is also available as a pilot-plant to test. Learn the technology, taste the difference it makes to your products and see for yourself the potential it unlocks.
2.
Full Dealcoholisation Units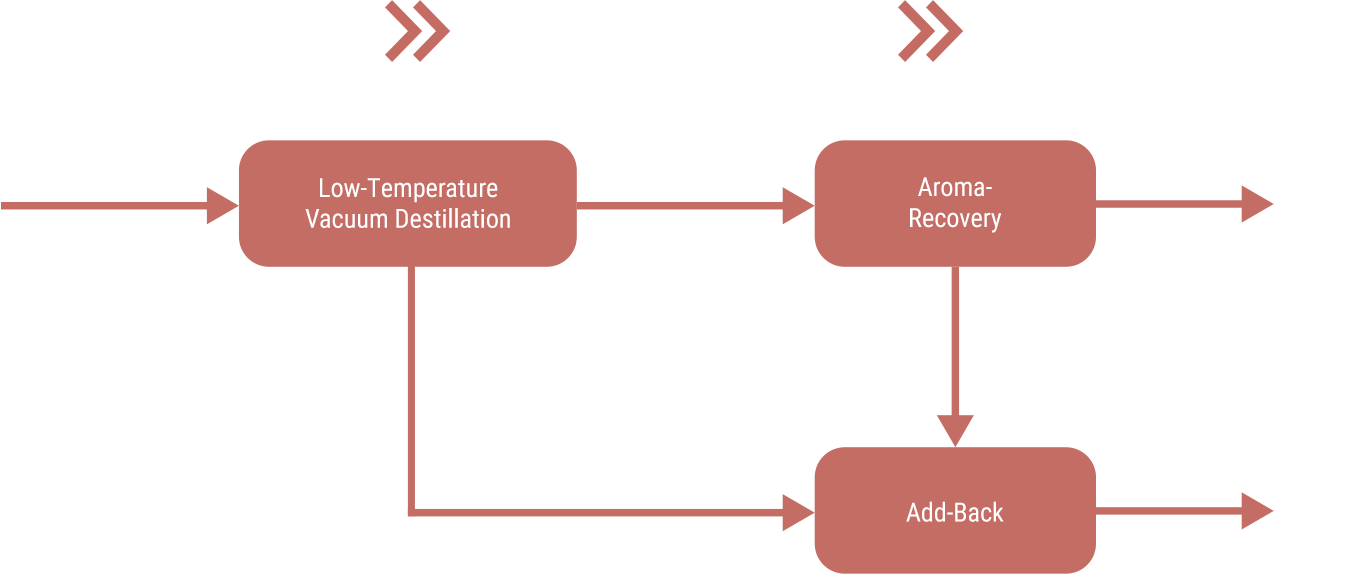 Gentle Dealcoholisation and Impactful Aroma Recovery
Our know-how extends beyond the recovery of aroma from the separated alcohol. We've applied our deep understanding of aroma chemistry to the optimization of the entire dealcoholisation process, cutting losses due to processing steps and from side-streams. Not only this, but our aroma recovery technology allows savings in other parts of the process compared to other available units.
Together with competent and experienced engineering partners, we offer a full dealcoholisation process tailored to inclusion of the aroma recovery module in a cost-effective and compact unit.
Whether applied to beer, wine or spirits, our dealcoholization plants are poised to set a new standard in the market.
3.
Contract Dealcoholisation
Your product in good hands
Financing your own processing capacity is not the only way to bring a dealcoholised product to the market. Contract processing is an interesting alternative for small producers and start-ups. This service can already be found in many markets, but none as yet can offer the quality achievable with the application of real aroma recovery.
True2Aroma is building a network of processing facilities to bring aroma quality to dealcoholised beverages in all production scales.
Get in touch if you are interested in having your wines dealcoholized off-site, or to develop your own regional contract processing facilities backed by True2Aroma!
4.
Engineering & Support
From concept to production
Are you looking for help to bring your product idea to reality, or to optimise your existing processes or products in terms of aroma?
Together with our competent partners and ever-growing network of contacts, our experienced team of engineers and food chemists can support you from product development through to plant optimisation and after-sales services.